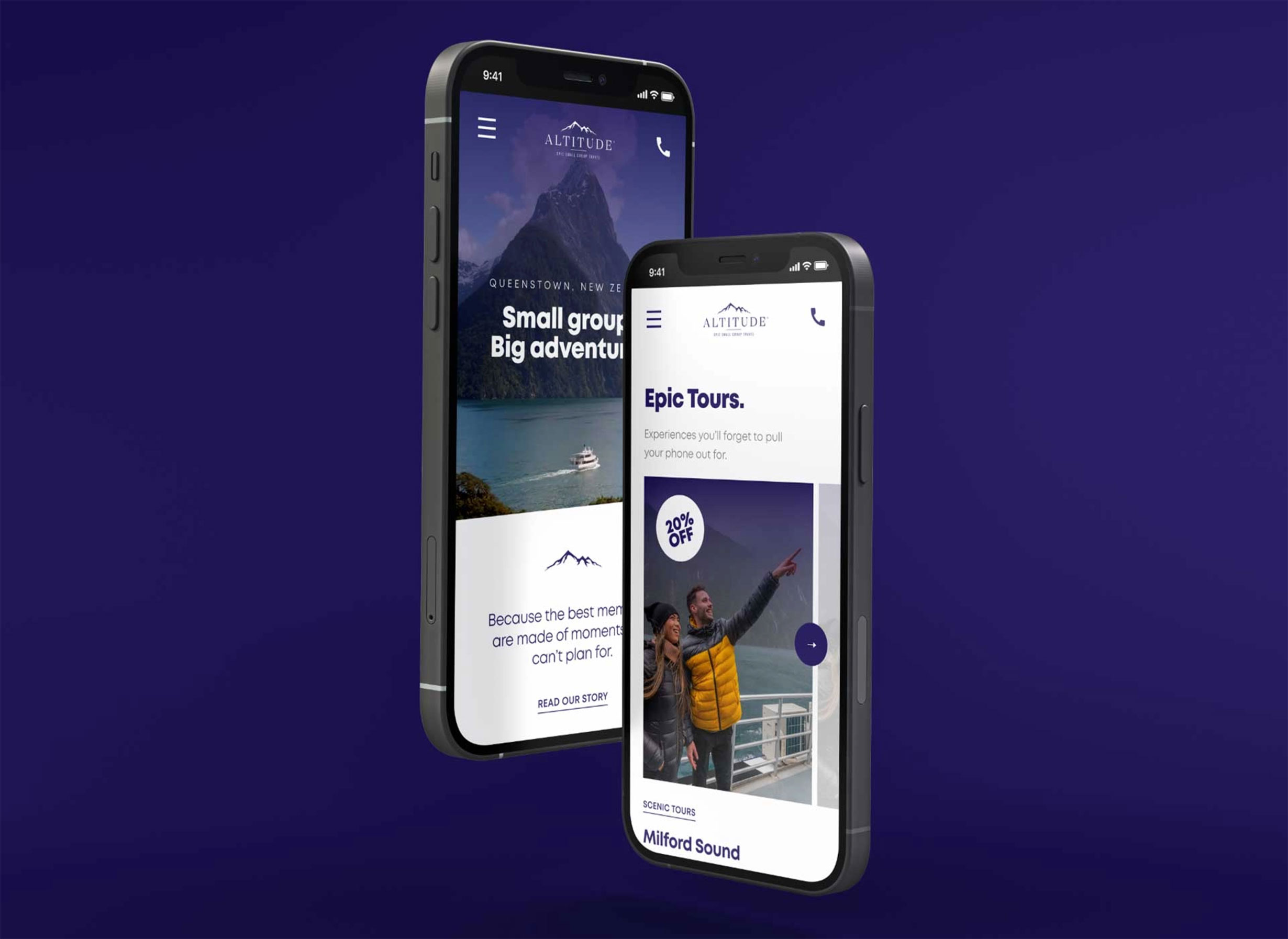 At Altitude Tours, delivering unparalleled value, entertainment, and unforgettable experiences isn't just a mission—it's business as usual.
In the heart of Queenstown, New Zealand, Altitude Tours emerged in 2017 with an audacious dream—to create the world's most extraordinary wine tour. Fuelled by passion, innovation, and a deep love for New Zealand, they quickly evolved into a trailblazing small group travel company. What sets Altitude Tours apart from traditional, cookie-cutter operators is their unwavering commitment to personalised, premium adventures with most tours thoughtfully capped at just 15 people. They believe that the most cherished memories are crafted from those serendipitous moments you can't plan for. Through our meticulous Seed Strategy session, we unearthed a common thread among Altitude Tours' target audience—youthful hearts filled with curiosity and a thirst for both fun and value. This revelation became the driving force behind the transformative brand refresh we embarked on together.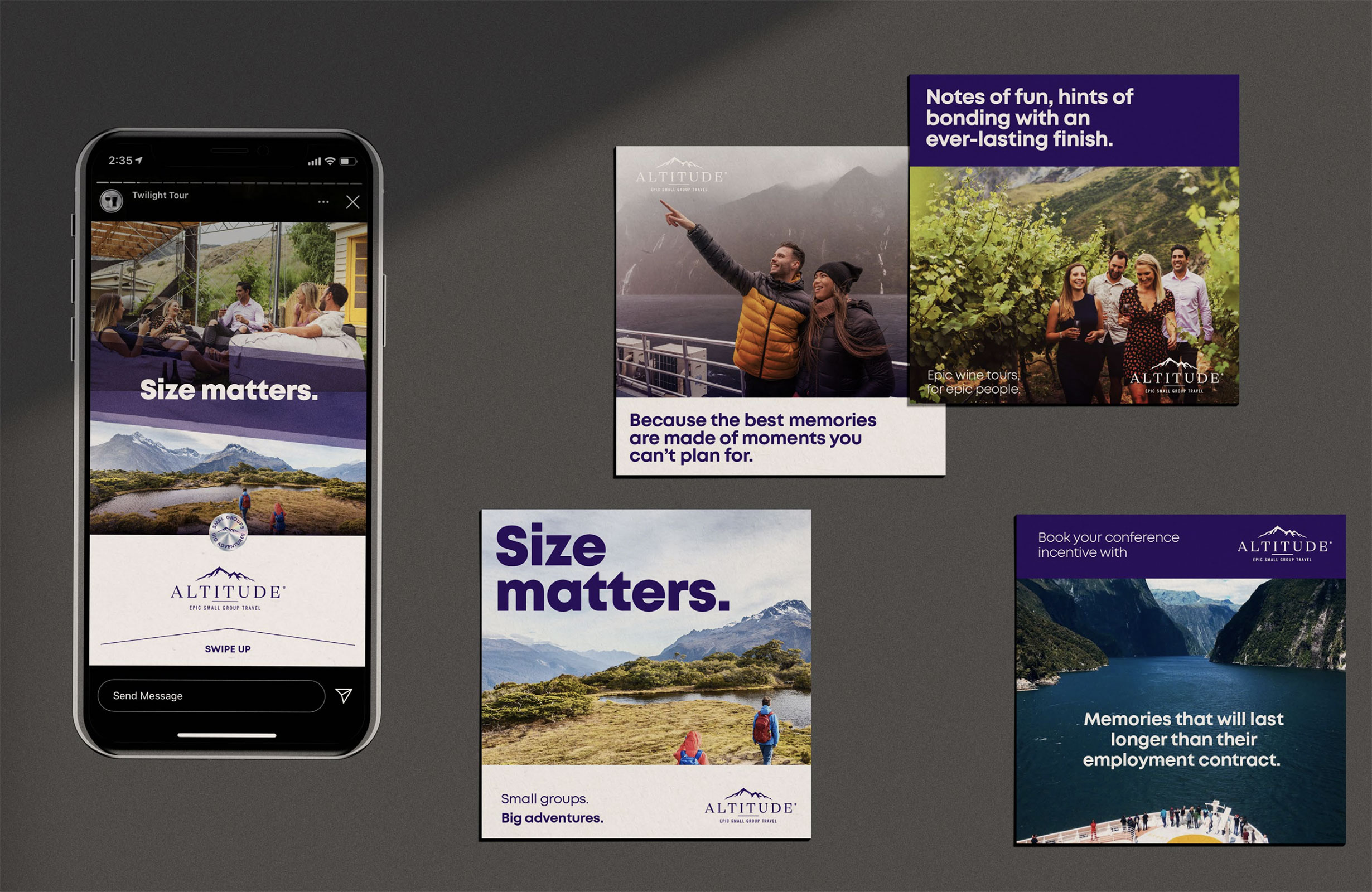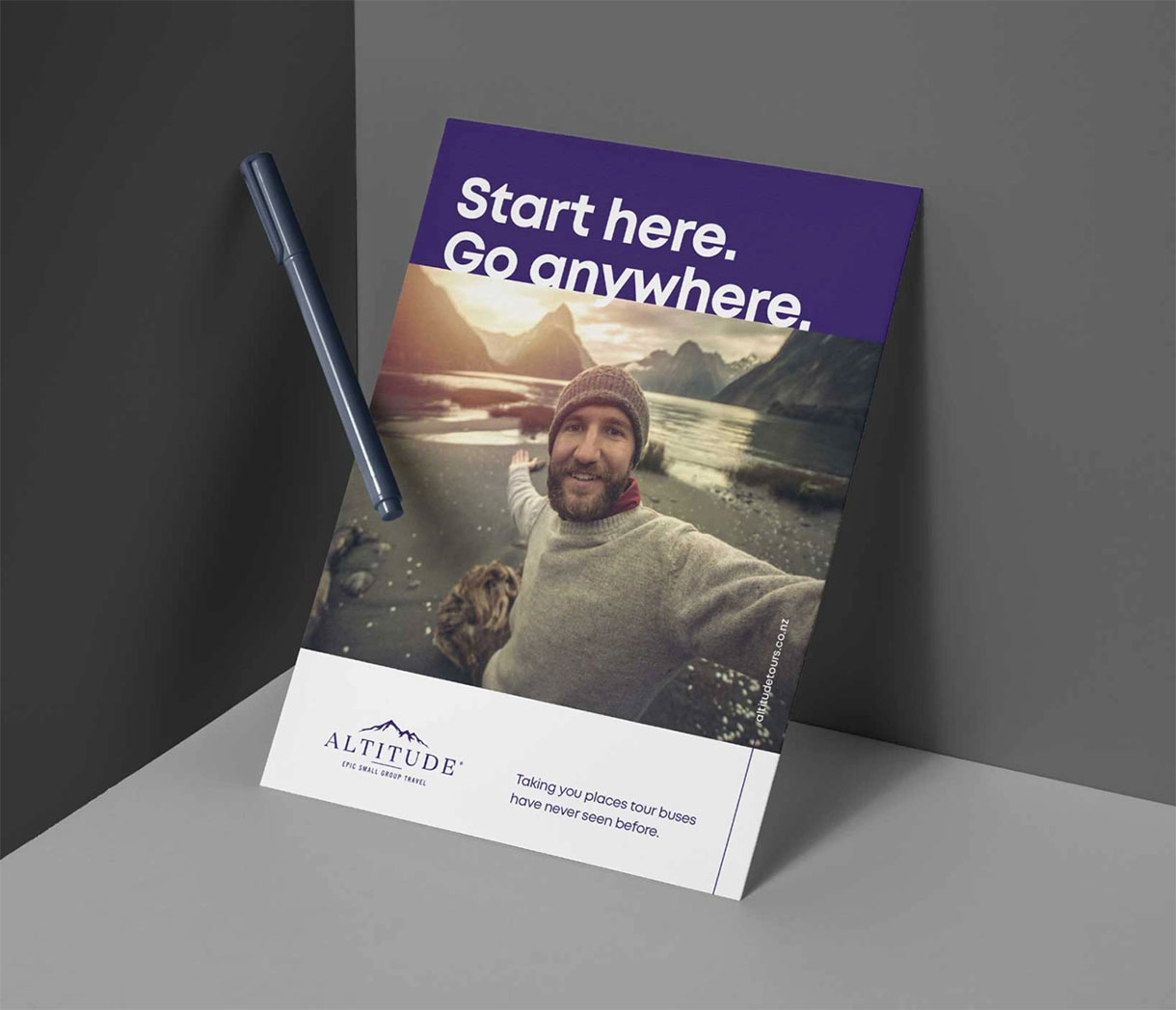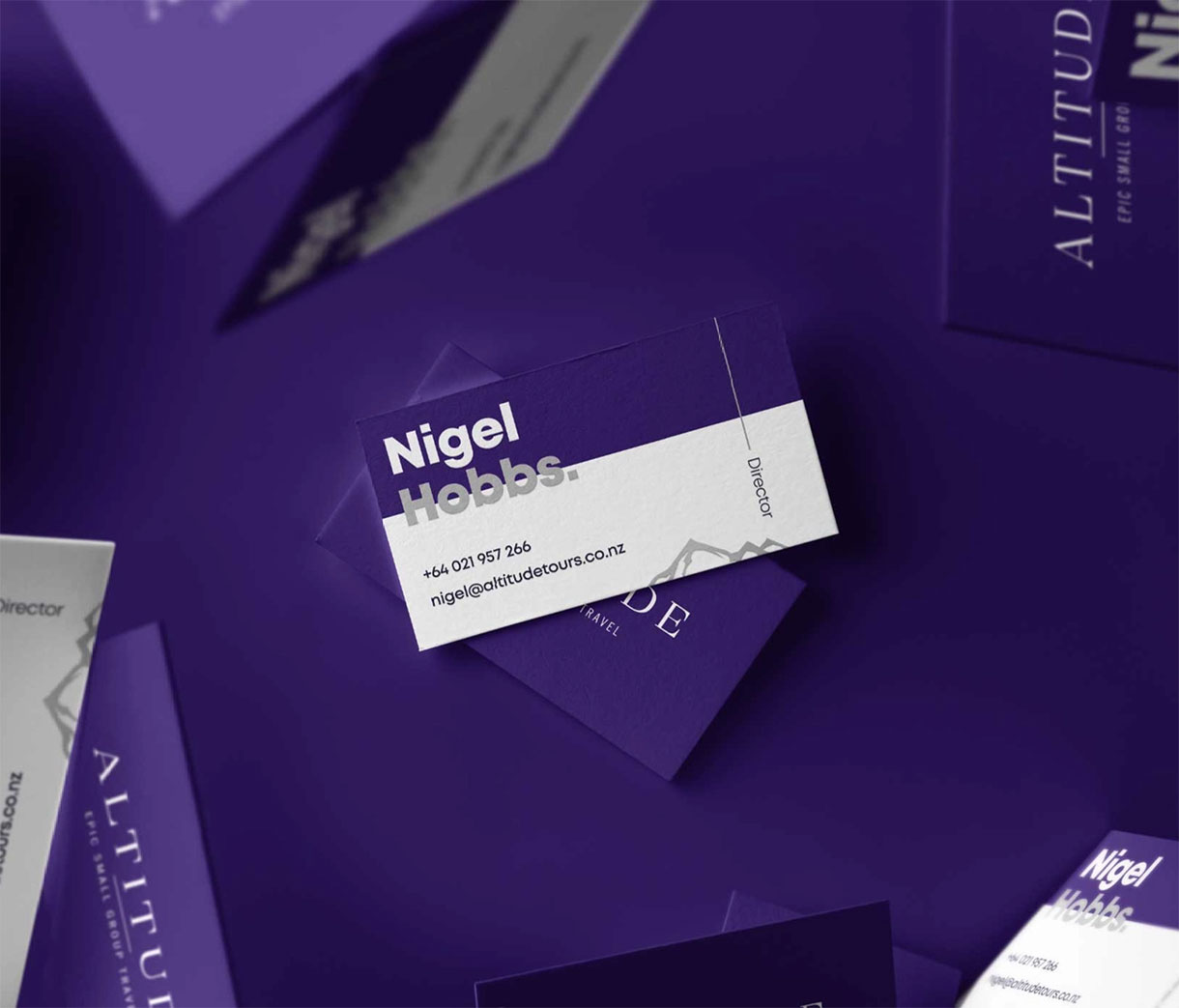 We identified several target audience characteristics, but determined they all had one thing in common – being 'young at heart'.
Our strategy unfolded with a clear mission—to make Altitude Tours irresistibly appealing to an audience we identified as "young at heart". We embarked on a comprehensive brand overhaul, artfully blending classic elements such as their current logomark with a complimentary, vibrant aesthetic. Introducing a captivating purple hue, we struck the perfect balance between bold luxury and youthful exuberance. This new visual identity breathed fresh life into Altitude Tours, capturing the essence of their dynamic experiences. But we didn't stop there. Recognizing the vital role of the digital landscape, we focused our efforts on creating a website that transcended mere communication. It became a powerful sales tool—an immersive experience that effortlessly converted visitors into eager adventurers. We meticulously crafted a user-centric design, ensuring seamless functionality and a visually stunning showcase of Altitude Tours and the captivating beauty of the lower South Island.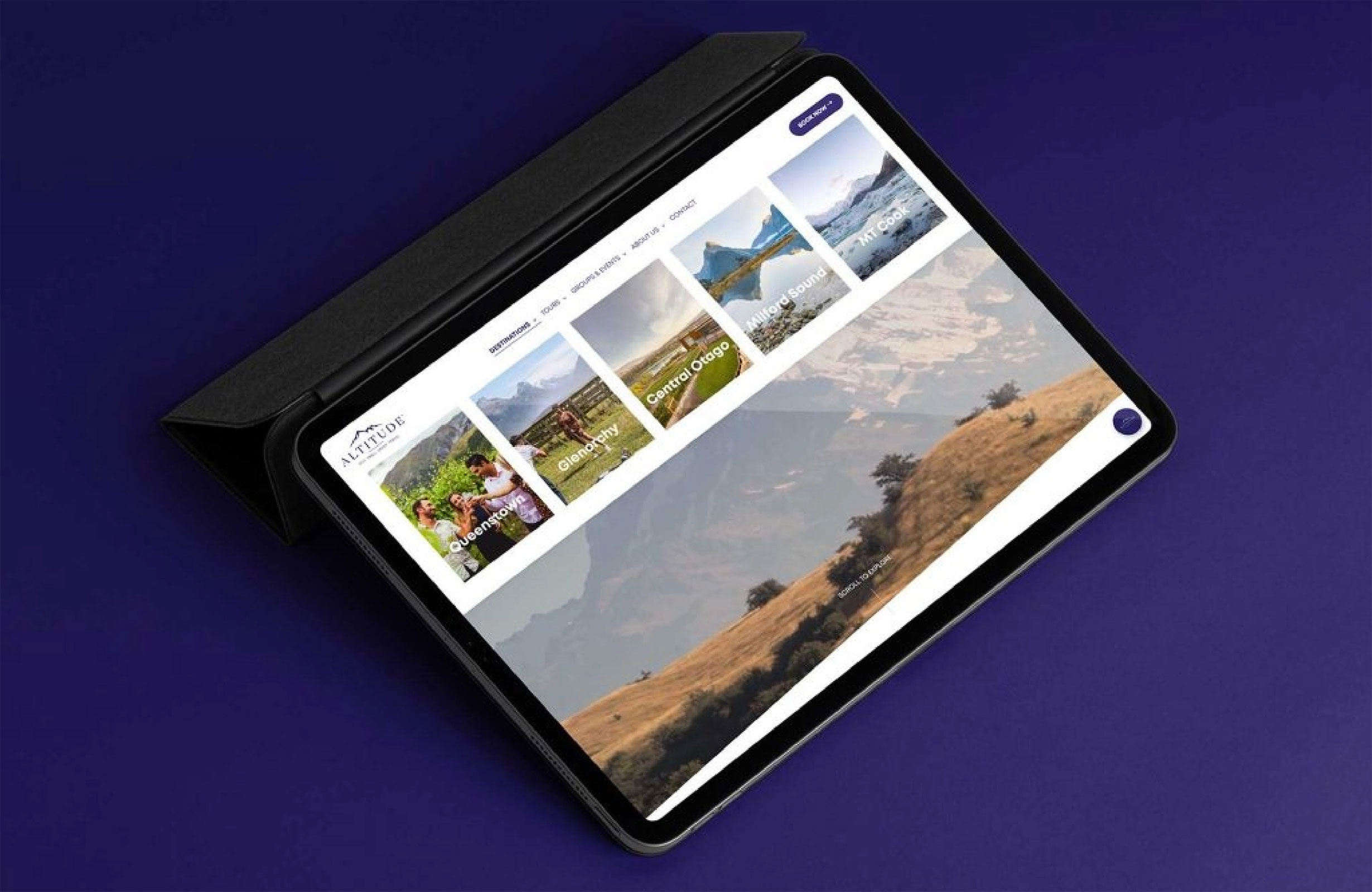 T
h
e
r
e
s
u
l
t
s
o
f
t
h
e
n
e
w
w
e
b
s
i
t
e
l
a
u
n
c
h
w
e
r
e
i
m
p
a
c
t
f
u
l
–
i
n
c
l
u
d
i
n
g
i
n
c
r
e
a
s
e
d
w
e
b
s
i
t
e
v
i
s
i
t
o
r
s
,
s
e
s
s
i
o
n
s
,
p
a
g
e
v
i
e
w
s
,
a
v
e
r
a
g
e
s
e
s
s
i
o
n
d
u
r
a
t
i
o
n
,
a
n
d
a
d
e
c
r
e
a
s
e
i
n
b
o
u
n
c
e
r
a
t
e
.
The impact was profound. Examining key metrics during the 30 days following the website launch revealed a resounding success story. Website visitors surged by 7.63%, while sessions witnessed a staggering 12.90% increase. Pageviews soared by an impressive 40%, and the average session duration skyrocketed by 16.91%. Bounce rates plummeted by 8.77%, and organic search traffic flourished with a remarkable 6.4% surge. But our journey with Altitude Tours doesn't end there. We remain steadfast in our commitment to their success, continuing our tireless efforts to optimize on-page and off-page SEO tactics. By bolstering organic keyword rankings and driving high-quality traffic, we aim to secure a steady stream of enthusiastic adventurers to their website. Altitude Tours stands as a testament to the transformative power of strategic design and collaborative creative efforts.
"
They were able to help with strategy and thinking out a bit further than what we were going to do in the next 3 months. They've been able to solve lots of challenges that we've had and it's always led to opportunity.
Nigel Hobbs - Director