Brand Transformation
Indulge in tranquility
Located just outside of Queenstown, nestled amongst the Southern Alps, and overlooking the crystal-clear waters of the Shotover River, Onsen Hot Pools offers a tranquil spa experience with unparalleled views of the stunning surrounding landscape. Guests can relax in one of Onsen's 14 cedar hot tubs and enjoy the breathtaking views before a rejuvenating spa treatment or massage from the skilled team.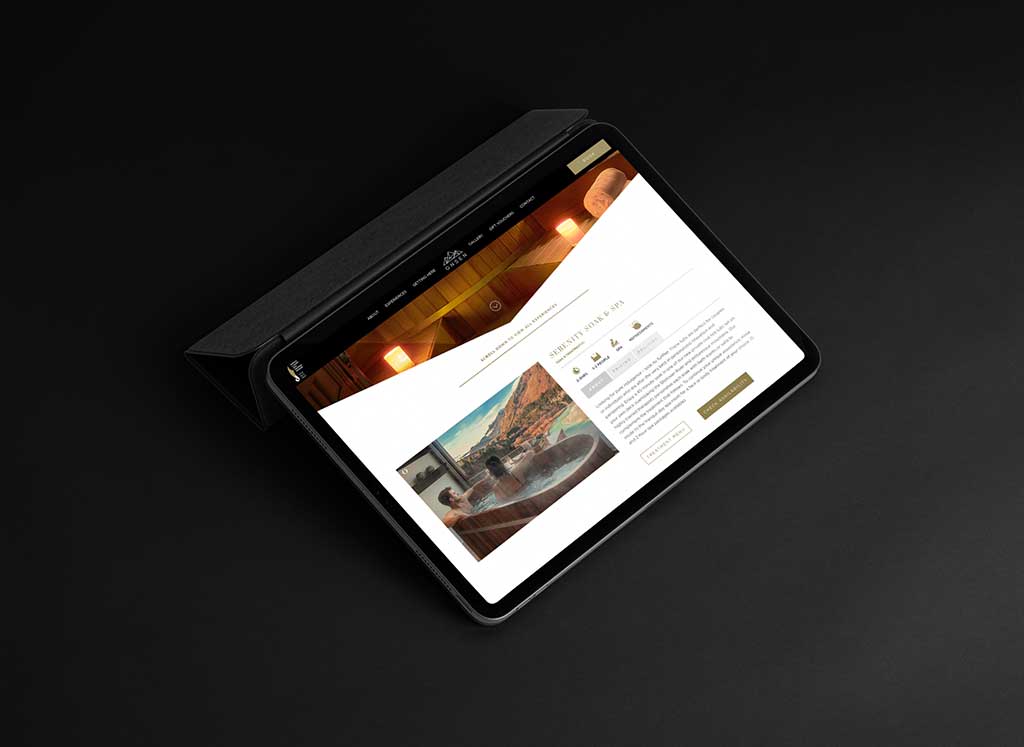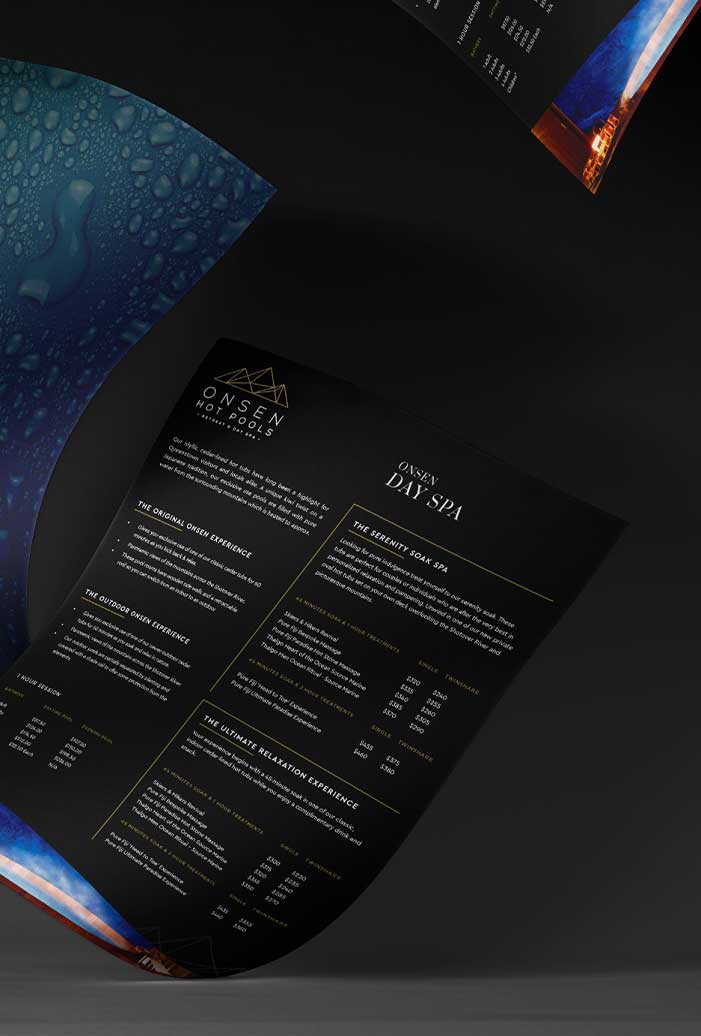 Insights.
We have had the pleasure of working with Onsen for many years, as they are one of our longest standing clients. When we originally developed the Onsen brand and built their website we wanted the business to stand apart from similar spa offerings in the area. Onsen's unique approach to tranquility and luxury was central to the business's success and we wanted that indulgent experience to be conveyed through each of the brand's touch points, both online and offline.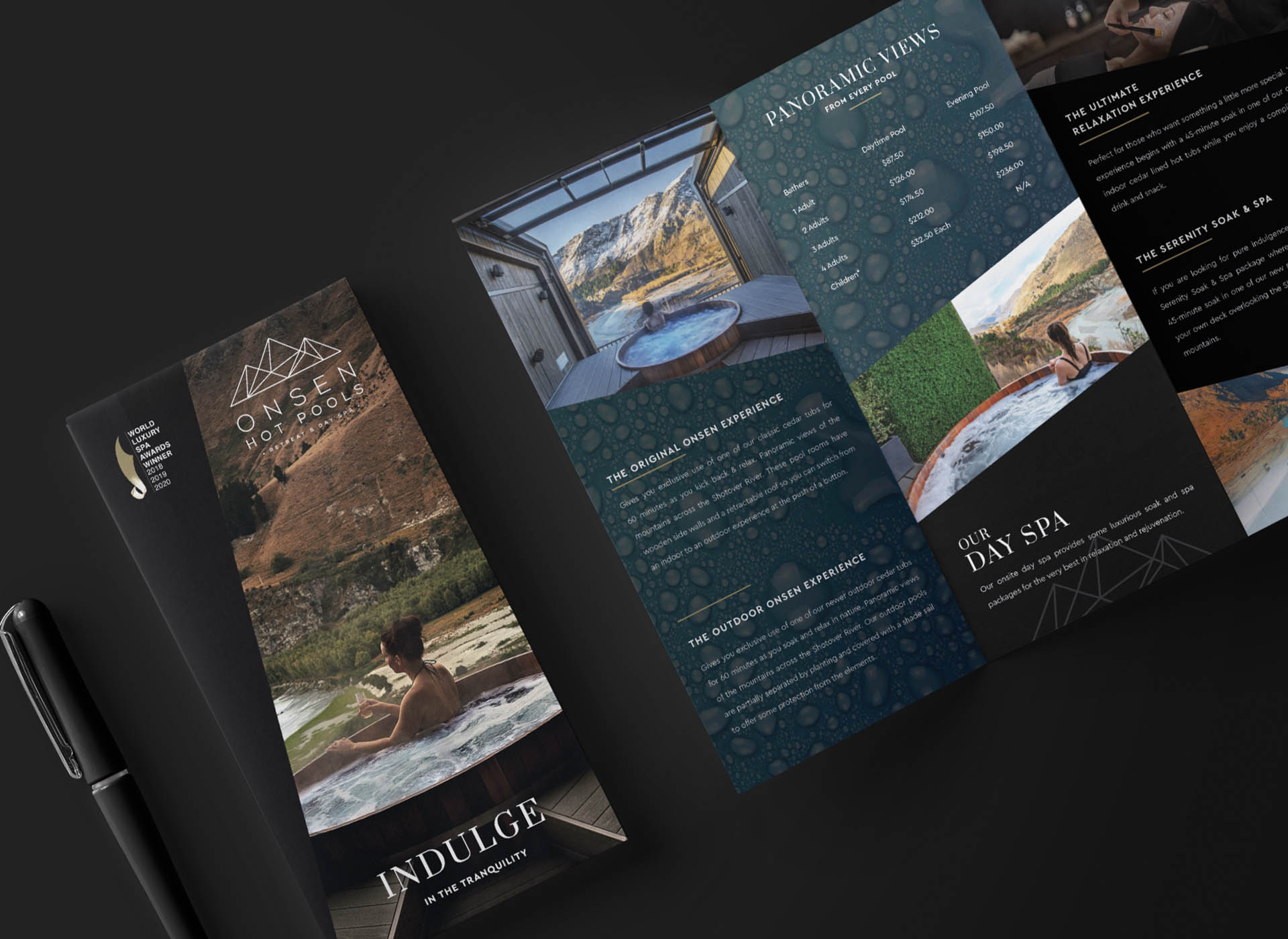 Strategy.
As Onsen's business has grown and expanded over the years, they added a selection of new service offerings and spa treatments, elevating their brand from the cedar hot pool offering as it was originally conceived, to a full-fledged luxury spa experience. This was an opportunity for the brand to evolve with the business, and so we took the time to refresh Onsen's classic branding without modifying the core foundations that the business was built on. We refined the colours used to be even more luxurious and premium, to match the updated fit out.
We also refreshed Onsen's website, to both improve the overall user experience, and ensure that every step of the booking process is seamless and easy for users to follow. A series of small micro animations throughout the website created an engaging brand experience online, and help embodied the attention to detail that Onsen prides themselves on when it comes to delivering an exceptional guest experience.
Impact.
After relaunching the updated website and rolling out the refreshed brand, Onsen's business began to soar. Seeing a record number of website visitors from New Zealand, Australia and further abroad each week, it is essential that the online booking experience is converting effectively. Over an average three-month period, Onsen have a stunning 8% conversion rate, which is a testament to the quality of their product offering, their strong brand presence in the market, and the usability of their website.
Since the website is such a powerful communications tool, we took the opportunity to extend all brand touchpoints with custom icons, designed to align with the overall look and feel of the Onsen brand and its ethos. This customisable design is just one of the reasons that Onsen continues to stand out in a competitive market, and keep customers coming back time and time again. A visit to Onsen is a must-do experience for any trip to Queenstown.
Visit Onsen Hot Pools Website
Deliverables.
Strategy
Seed™ Workshop
Positioning
User Profiles & Journeys
Brand Attributes
Competitive Audit
Branding
Logo Design
Visual Identity System
Brand Style Guidelines
Print Design & Production
Collateral Print Marketing
Signage & Wayfinding
Web
Web Responsive Web Design & Development
User Experience Design (UX)
Wireframing & Prototyping
Wordpress CMS
Search Optimisation (SEO)